From May 31 until June 10, 2016, the drupa will again be held in Düsseldorf, Germany. Many innovations and market trends will be presented at this leading trade fair for Print and Crossmedia Solutions. MB Bäuerle, the manufacturer of automated folding machines, inserting systems and systems solutions, will show some of its innovative technologies at the following partner stands:
Canon - Hall 8a / Stand B50
Demonstration of an integrated digital print production solution with online connection to the fully automatic folding system prestigeFOLD NET 52-ART 52. In addition, the new multifunctional flat pile feeder FSA 52-Online will be demonstrated together with the folding system. The feeder makes it possible to supply the online folding system either with single sheets or with continuous forms from the roll.
Hohner Maschinenbau - Hall 14 / Stand B32
Presentation of the HSB DIGI-FS 8: DIGI-finisher, folder-stitcher and traditional saddle binder in one. The production line provides the possibility to fold single sheets directly from the printing machine or cut sheets from the unwinder of the print roll in the subsequent folding process with the fully automatic MB Bäuerle folding system prestigeFOLD NET 52. The result is a complete brochure.

Meccanotecnica - Hall 16 / Stand B46
The roll-to-book solution – Demonstration of a new system which allows the sewing of books directly from the roll. It performs several processes all-in-one. With its interim storage function, the sheet-buffer-system from MB Bäuerle ensures a continuous and reliable production when feeding single sheets.

Renz - Hall / Stand C60
Demonstration of the calendar sorter as a feeding and collating system for the separation of calendar sheets. With the calendar sorter, stacks of calendar sheets are placed on a flat pile feeder and separated according to a defined number of sheets. Additional cover sheets can be added to the stack with a cover feeder. The machine consists of the flat pile feeder FSA 52, the collector track and the cover feeder.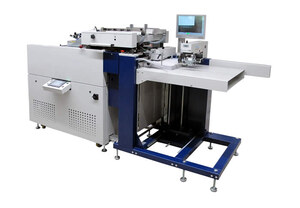 Tecnau - Hall 8a / Stand D63
Presentation of the innovative book block production system Libra One. With this completely integrated solution, it is even possible to produce unique books. Integrated in the system is the fully automatic MB Bäuerle folding system prestigeFOLD NET 52 with selective fold plates which enable a fast setting to a specific product.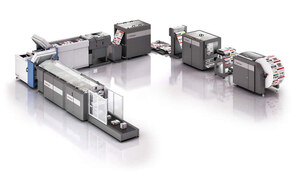 We are looking forward to informing you about the latest developments from our product range. If you need further information or would like to arrange a meeting, please do not hesitate to phone us or send us an e-mail.